Advanced micro-mesh technology for night time driving
Vision-Eaze is an innovative lens process that helps provide better visual clarity and reduce glare. It can benefit a range of people who may have problems with glare from night driving or fluorescent lighting.
Benefits
- Aligns scattered light reflections
- Dampens flicker
- Sharpens contrast
- Reduces eye strain
- Deflects EMI radiation
Applications
- Reading & Writing
- Computer use
- Night driving
- Exposure to excessive artificial lighting
Ask us about Vision-Eaze lenses in your glasses.
---
Standard Vari-Focal and Premium Vari-Focal Lenses
This is a great entry level varifocal lens. It will give good clear vision at distance, intermediate and near, natural smooth graduation between the three zones and with comfortable soft focus distortion at the edges.

This is a very high quality varifocal lens with a field of view much wider than the standard design. It has even more natural graduation between the distance, intermediate and near zones, while the distortions at the edges are reduced even further. These offer great visual comfort and performance and are easily adapted to. They can be used in the shallower frames.

These are currently the best available style of varifocal, from the new crop of 'freeform' and 'lifestyle' designs where the technology used to make the lens is more superior and as such allows nearly all the distortions to be pushed to the very edge of the lens. The field of view now 3 times wider than the standard design and the graduation from distance to near very natural. They are great for all purposes and are easily adapted to. They can be used with all frame styles and designs.

---
BluTech Lenses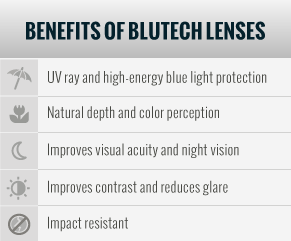 You only get one set of eyes. And BluTech Lenses from Eye Solutions Technologies are the only lenses you'll ever need for a lifetime of improved contrast, acuity, depth and color perception. Committed to the lifelong preservation of your vision, BluTech Lenses specializes in bringing revolutionary science-based technology to those demanding the ultimate in visual performance, comfort, and safety.
Ideal for anyone, BluTech Lenses provide protection from UV rays and harmful high-energy blue light without altering or distorting color perception. No other lens can support that claim. The most technologically advanced lenses on the market, they're durable, comfortable, and safe.
The Technology behind BluTech lenses
BluTech Lenses filter high-energy blue and ultra-violet light using ocular lens pigment derived from the auto-oxidation of 3- Hydroxykynurenine (3-OHKyn). The ocular lens pigment is then combined with melanin and isolated in a durable material. When used in an optical lens, this infusion of pigment provides the same protection, contrast enhancement, and color perception to the eye as the natural yellow-brown coloration
of the human crystalline lens.